There's been clebration in France since yesterday. Four French hostages who were abducted by Al-Qaeda in northern Niger in 2010 have been released.
Thierry Dol, Daniel Larribe, Pierre Legrand and Marc Feret were working for French nuclear giant Areva when they were kidnapped on September 16, 2010 from a uranium compound in Arlit, north-central Niger. Trials for the kidnapped men and suffering for their families who lived through a nightmare lasted three long years.
On the day of the abduction, seven people where kidnapped. Around 160 days later in February 2011, Daniel's wife Francoise Larribe who was ill was released along with two African subcontractors who had been taken, a Togolese worker and one from Madagascar, who was suffering from diabetes.
AQIM then demanded at least 90 million euros ($124 million) for the release of the remaining hostages. But the French President François Hollande refused to pay the ransom.
On June 1 2013, a rally was held for the four hostages after 1,000 days in captivity. Over a thousand people demonstrated in several towns and cities in France to show of support for the victims and their families.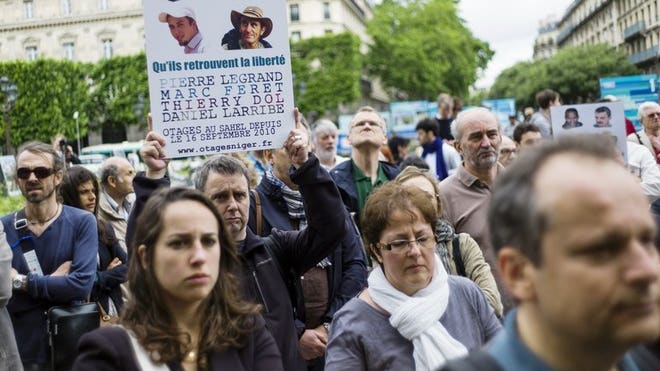 On June 18 2013, France and other G-8 countries made an agreement not to pay ransom to terrorists. But suspicions had persisted that France continued to pay out, causing tensions with partners such as the US.
After 1,139 days in captivity in harsh conditions, having been separated and moved from hideout to hideout, the four men were retrieved in northern Mali on Tuesday.
They spent their first night of freedom in the Niger capital, Niamey, and left for Paris early Wednesday morning. Foreign Minister Laurent Fabius and Defense Minister Jean-Yves Le Drian had flown to Niger to pick them up. Fabius joked that some of the men slept on the floor of their rooms, finding the mattresses too soft after their ordeal.
They arrived back in France on Wednesday no one knows whether France had paid a ransom although there are reports that a ransom of over 20m euros had been paid for the four men's release after months of negotiations. The French government repeatedly insisted that no ransom was paid, and no assault took place.
President Francois Hollande and their family greeted each of the hostages on the tarmac at the Villacoublay military airport outside Paris.
Daniel Larribe was separated from the rest of the group and kept with no radio or access to the outside world, unaware that his mother in France had died during that time.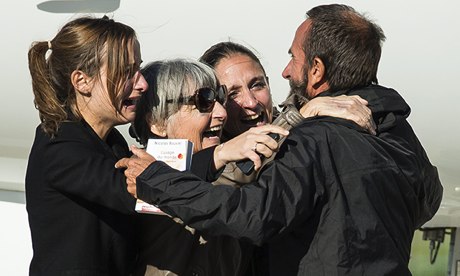 Daniel Larribe is greeted by family members on arrival at military airport
Marc Feret, 46, a former marine who, at the time of the kidnapping, had been just about go home to Madagascar where his wife was to give birth to their second child. He met the three-year-old boy for the first time upon landing in Paris.
The youngest hostage, Pierre Legrand, 28, had been on a 15-month volunteer in business scheme and was just about to embark on his journey home to France when he was taken at Arlit.
Pierre Legrand centre in scarf at Niamey's airport in Niger
On February 19, a French family of seven, including four children, were held in captivity during two months in the hands of Nigerian Islamist militants.
Armed men on motorcycles snatched the family while they were on holiday near the Waza national park in north Cameroon, some 6 miles from the Nigerian border.
The father of the kidnapped family, Tanguy Moulin-Fournier, worked in Cameroon for French utility firm GDF Suez. He was kidnapped with his wife, two daughters and two sons, and his brother, who was visiting them on holiday.
In March, a video of the family was released by Boko Haram, they threatened to kill them unless Nigeria and Cameroon released Muslim militants held in detention.
It is unclear if any of the group's demands had been met before their release although there are reports that Boko Haram was paid an equivalent of $3.15m by French and Cameroonian negotiators before freeing seven French hostages on 19 avrill, citing a confidential Nigerian government report.
The global intelligence company Stratfor estimates that al-Qaida in the Islamic Maghreb, or AQIM, has carried out at least 18 kidnappings since 2003, raising an estimated $89 million in ransom payments.
At least seven French hostages remain in captivity around the world, including two taken in Mali, one in Nigeria and four journalists in Syria.