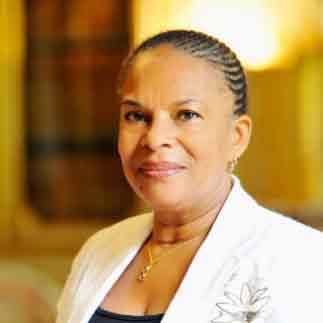 Racism seems to be on the fast track in France. For the third time in a month, the first black French Justice, Minister Christiane Taubira, has been sujected to racism comments.
The French Minister of Justice has just been compared again to a monkey and this time around
par un magazine français
. The cover of the weekly magazine, Minute, featured a photograph of the 61-year-old black politician with the title, "
Maligne comme un singe, Taubira retrouve la banane.
" In English, "
Crafty as a monkey, Taubira gets her banana back.
"
Although racism has always been present in the French society, reports show that it is on the increase in France. A report from the Paris-based National Consultative Commission of Human Rights (CNCDH) released in March 2013 found that racist, anti-Semitic and anti-Muslim acts and threats in France saw an increase of 23 percent in 2012.
A picture where Christiane Taubira, was compared to a compared to a monkey has been circulating
sur internet
for some months now. Another picture also shows her being taunted with a banana
par une jeune fille
at a street protest. The shocking part is that a candidate from the extreme right French politcal party "National Front" actually uploaded the picture
sur sa page Facebook
.
Although the candidate has been suspended by her party, I think she should also be punished because in France, racism is an offence punishable by law. She might not be the one who actually placed the image of a monkey next to a photo of Taubira, but as a public figure who has refused to respect the law, she should be used as a scape goat to quickly put a curb on racist speech which seem to have become more acceptable in France today.
Anne-Sophie Leclere, candidate of "National Front" party
The question everyone is asking now is "Is racist France back ?". Living in France, I have been subjected to racism too, mostly by bus drivers... but I don't let it bother me. I just overlook it and most times, I feel sorry for them. I can't imagine spending my life
toujours malheureux
because blacks or foreigners are living in my land. Life is too short to be spent "being miserable".
A lot of French people believe that there are lots of immigrants in France, legal and illegal immigrants. They believe it is a problem which will endanger their society. During this period of crises, where there is a high rate of unemployment, they believe the French don't have jobs because immigrants have taken their jobs. They seem to forget that several of these immigrants are doing jobs, some French people won't love to do.
No one actually knows how many immigrants are in France because a race-based statistics are illegal in France. Some French people believe the tax they pay go into the welfare of immigrants and that France's diversity endangers its grandeur. They believe immigrants have too many children knowing they do not have the means to take care of them, and then, they start asking for allocations (which is the tax they pay to take care of their children).
As an immigrant myself, I cannot deny that i have gotten benefits from the taxes payed by the French. The French system has been there for me... knowing i haven't worked 35 hours a week and paid taxes. France has been able to give several things that my homeland couldn't give to me, good professionnal course, free high class medical attention, electricity 24/24, pipe-borne water, good roads, clean environment, security, the list goes on...
"I love Taubira" written on the banana
Several times, I tell myself that I do not deserve this, it is someone's money, someone's tax, so to pay back,
je serai toujours dans la légalité
. I 'll work hard and pay my tax. The annoying part is that our leaders are sitting their lazy fat arse down doing nothing but stealing public funds instead of turning Nigeria into a developped country. Why can't they provide us with a stable life? Why can't they make Nigeria work? Why won't the system work in Africa? When will the race of poverty stop being African?
Watch the candidateof the French politcal party "National Front" speak about the picture she posted on her Facebook page.